Product Description
Stainless Steel V-profile Press Fittings
Stainless Steel Adapter Coupling Press Fitting with Female Threaded End
is healthy,economic and long service life accepted in gas pipeline system,water pipeline system,drinking pipeline system etc.
1 Press fitting range: Coupling-Equal Coupling,Reducing coupling,Slip coupling, oupling with male/ female threads;
Elbow-Elbow 90°,Elbow 45°, Reducing elbow,Elbow with plain end, Elbow with wall plate, Elbow with male/ female threads;
Tee-Equal tee, Reducing tee, Tee with wall plate, Tee with male/ female threads;
Other-cap, Pipe Bridge, Flange adapter.
2 Material: Stainless steel 304L, Edelstahl1.4306/ Edelstahl1.4301, AISI304L, Inox304L;
Stainless steel 316L, Edelstahl1.4404, AISI316L, Inox316L;
Galvanized carbon steel, Kohlenstoffstahl, ACCIAIO AL CARBONIO.
3 Size: size:3/8``-4``inch, thickness: 1.0--2.0mm
Size range:
GB1 series sizes: 15,18,22,28,35,42,54,76.1,88.9,108mm. (Same as DVGW W534:1995);
GB2 series` sizes: 15.88, 22.22, 28.58, 34.00, 42.7, 48.6, 76.1, 88.9, 108mm. (Same as JIS G 3448-1980).
4 Standard: Press fitting standard: (DIN)DVGW W534-1995; (JIS)JWWA G116:2001; GB/T 19228.1-2003
Pipe standard: DIN10312:2003; GB/T 19228.2-2003
5 O-Ring: O-ring sealing standard: CEN EN 681-1:2006; GB/T19228.3-2003
Chlorinated butyl rubber(CIIR), EPDM, HNBR, NBR and FKM, etc.
6 Galvanization: all carbon steel pipe fittings are plated with rust-resistant zinc.
7 Payment term: TT, irrevocable L/C at sight. Price term: FOB, CIF and CNF.
8 Anneal: all stainless steel pipe fittings are annealed in inert gases before packing.
9 Advantage:V profile Press fitting is the best connection for thin wall stainless steel pipe, PE(X)-Al-PE(X) multiplayer pipe and SS-PE composite pipe.
V profile press fitting are easy and fast installation with simple press tools can save time and improve job productivity and profitability.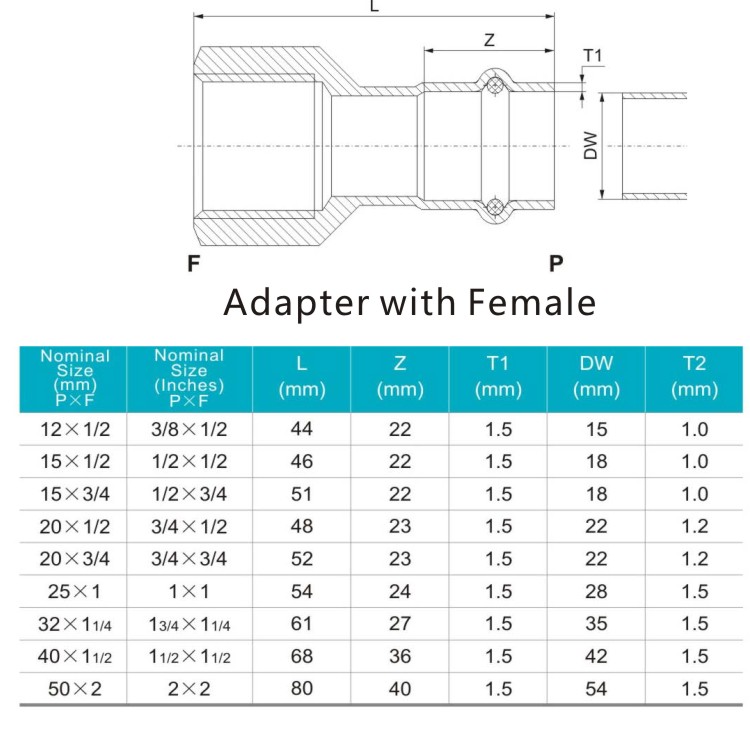 Factory